Introduction
All internal combustion (IC) engines require a method to store and deliver fuel to the engine. Fuel is stored remotely from the engine and a circulation pump is used to deliver and return fuel to/from the engine.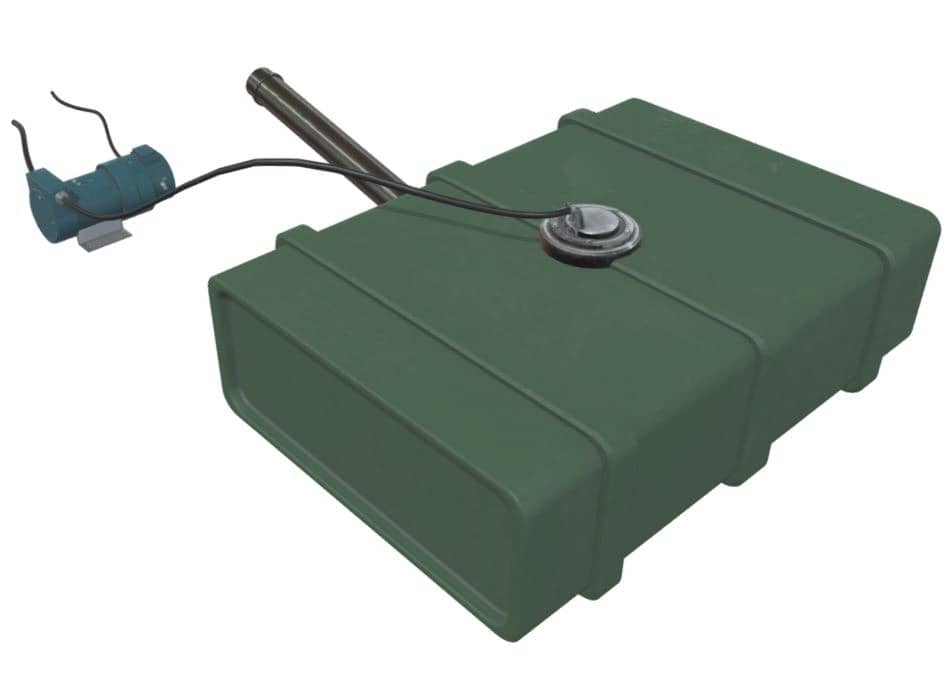 Fuel Storage Tank and Circulation Pump
Because many engines rely on fuel injectors which are precision components with extremely tight tolerances and very small injection holes, the fuel delivered to the engine must be extremely clean and free of contaminants.
The fuel system must therefore not only deliver the fuel, but also ensure its cleanliness. This is usually accomplished through a series of in-line filters . Commonly, the fuel will be filtered once outside the engine and then the fuel will pass through at least one more filter internal to the engine (usually located in the fuel line at each fuel injector).
Diesel Engines
In a diesel engine, the fuel system is much more complex than the fuel system on a simple gasoline engine because the fuel serves two purposes. One purpose is to supply the fuel to run the engine; the other is to act as a coolant to the injectors. To meet this second purpose, diesel fuel is kept continuously flowing through the engine's fuel system at a flow rate much higher than required to simply run the engine. The excess fuel is routed back to the fuel pump or the fuel storage tank depending on the application.
Tip 1: Fuel passes through the injector nozzle holes and is vaporised into tiny droplets as it enters the combustion chamber. Vaporised fuel forms an ideal fuel/air mix and yields a much faster and more efficient means of combustion.
Tip 2: The fuel filter should be changed periodically as it will tend to become blocked/clogged over time. A blocked fuel filter will cause a flow restriction in the fuel line and may lead to the engine being 'starved' of fuel. Consult your engine maintenance manual to find the correct maintenance interval (usually given in months, engine operational hours, or km/mile distance).
Common Rail Fuel Injection
Common rail fuel injection is used for traditional diesel engines and also for petrol/gasoline engines, particularly in the automotive industry. The adoption of a common rail fuel injection system for petrol/gasoline engines is a relatively new trend (last 10-15 years).
How Common Rail Fuel Injection Systems Work
Common rail technology allows fuel injection timing to be much more precise compared to traditional mechanical injection. In order to function, it is necessary to charge the fuel line to very high pressure (>1,000 bar) then use solenoid valves to open/close the fuel supply to each injector; it is also possible to use a hydraulic circuit to control when the fuel injector actuates. Fuel is fed into a common manifold prior to injection, hence the 'common rail' name.
3D Model Components
This 3D model shows all major components associated with a typical common rail fuel injector, these include:
Fuel Return Line (Leak Back Line)
Electrical Connection
High Pressure Fuel Inlet
Injector Valve
Solenoid Valve/Actuator
Valve Piston
Nozzle Spring
Thrust Piece
Valve Needle
Additional Resources
https://www.topgear.com.ph/features/feature-articles/how-does-a-common-rail-diesel-engine-work-adv-con