Welding Neck Flange
A welding neck flange (also called a 'weld neck flange') is well recognised for its long-tapered hub, which provides mechanical strength (useful to resist 'dishing' and 'bowing'). Welding neck flanges are high integrity flanges and are available in all sizes, all common face types (flat, raised, RTJ), and all classes. Due to the strength of the hub and the integrity of the weld, this type of flange is well suited for elevated temperature and pressure applications.
Welding Neck Flange Cross Section
A butt weld, also known as V-weld or groove weld, provides single full weld penetration and is used to connect the welding neck flange to a pipe or fitting. The single full weld penetration makes this type of flange suitable for severe operating conditions, such as high-pressure systems, sub-zero temperatures, and elevated temperatures. Other welding neck flange benefits include:
Excellent stress-distribution along the tapered hub.
Unrestricted flow with a low pressure drop across the valve (low delta P).
High cyclical loading capability.
Causes minimal turbulence.
Low erosion rates.
Means for a direct connection to elbows, tees, or reducers.
On larger diameter flanges, there is more available space to perform non-destructive testing on the weld (difficult on some flange designs due to the location of the weld).
High resistance to bending moments due to the long hub.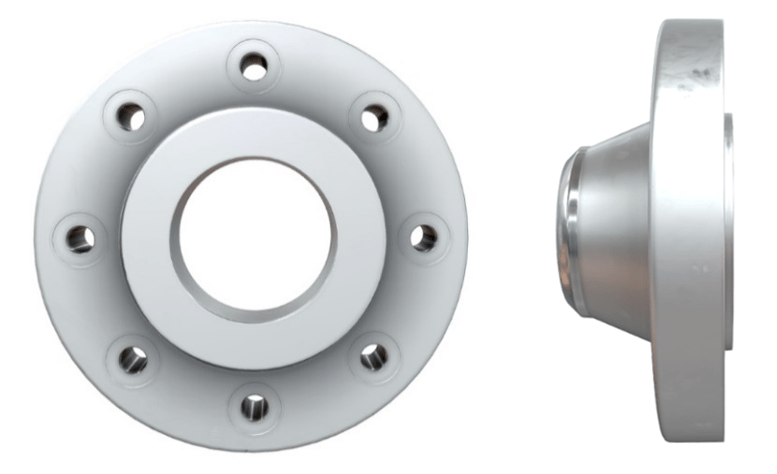 Welding Neck Flange
The unrestricted flow and low turbulence characteristics of a welding neck flange are linked to the low pressure drop across the flange; this is because the flange bore is the same as the pipe bore. Erosions rates are also linked to the pressure drop across the flange, although the erosion rate depends heavily upon what is flowing through the flange.
This type of flange has one significant disadvantage compared to other flange types, it is more expensive (a deciding factor for most companies).
Non-Destructive Testing (NDT) Techniques
A phased array (ultrasonic NDT technique) flange face corrosion inspection can be conducted on welding neck flanges; the results reveal any internal damage on the sealing face. 
Magnetic particle inspection (MPI), dye penetrant inspection (DPI), radiographic testing (RT) and/or ultrasonic testing (UT) can be used to prove the butt weld.
ASME Standards
The standards ASME B16.5 and ASME B31.3 specify the requirements for welding neck flange installation, maintenance, and testing.
Flange Types, Faces, and Surfaces - Explained!
This video is part of our Piping Flange Fundamentals Video Course
Additional Resources
https://en.wikipedia.org/wiki/Weld_neck_flange
https://www.texasflange.com/weld-neck-flanges
http://www.wermac.org/flanges/flanges_welding-neck_socket-weld_lap-joint_screwed_blind.html